Way back in the 90's I was asked to join James Warren's Korgis for a few dates. After a little while we lost touch, but the music business being what it is, fate would bring us back together.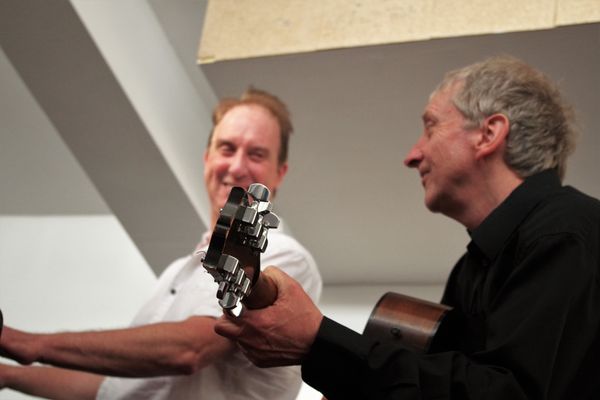 I had been looking for someone to co-write some commercial songs, that could be performed by name artistes, and by strange coincidence James had been doing exactly the same thing. We chanced on each other again through a music pitching website, and started to write together. James was also recording his latest album 'Innocent Bystander'. I contributed some guitar, a bit of string and brass writing, and we recorded the players at Shabbey Road. On the release of 'Innocent Bystander' the record company popped the question... are you going to tour to promote it? Right there, the idea of James Warren and Friends was born.
The new material is very dynamic, so we needed a kick-ass drummer. I knew the man - he is Paul Smith. James sounded out John Baker - vocalist from the 90's Korgis, and his long-time keyboardist Glenn Tommey. Vocals have always been a key part of the James Warren sound, and I had been working with an exciting new group called Born to Win. I asked if they would take care of backing vocals. Wow!... we had a band! Initially James was to play acoustic, but we then settled for the obvious of him on bass. He is one of those rare individuals who can sing and play the most complex bass part! 
We rehearsed 3 songs, and it sounded damn good! James and I had a meeting where he expressed his wish to do a 'proper' show, where we linked songs together, talked over intros, and really thought about how the whole thing would feel. I suggested using film for some numbers as a backdrop. We decided to do a tester gig at The Rondo Theatre in Bath. It was billed as an 'Exclusive Preview', and we mainly played new material. There were a few obvious favourites as well. We invited questions from the audience, which was a fun thing to do... like your favourite memory of working with Sir George Martin.
The Rondo gig was massively well received, as well as being sold out! We had proved that the show had legs, and what's more - we all loved the combined energy of the band.
James got busy on getting some gigs, using the principle that, if we have gigs we HAVE to be ready. This is also how I work at the studio. We book the musicians BEFORE we have written a scrap of music! Drawing material from Stackridge/The Korgis/ and James' solo albums we honed a set list that seemed to really hang together. Of course there was multimedia stuff going on everywhere as well. James does NOT love risk, so he was looking quite anxious with the amount of computer stuff I was rigging. After a few tweaks it was all up and ticking over smoothly. We are running film and click tracks (so the band can keep in time with the films), live from the stage. Here is a clip of our final rehearsal at Peter Gabriel's Real World Studios. This is the amazing 'This World's For Everyone'.
Got to say, the gig at The Stables was a blast! Born to Win, brought the house down with four of their own songs, before James killed the first set with some new songs and some REALLY OLD Stackridge stuff... but the real highlight was Set 2 where we kicked into the Korgis material.  Here is the proof, in the form of 'Boots and Shoes'!