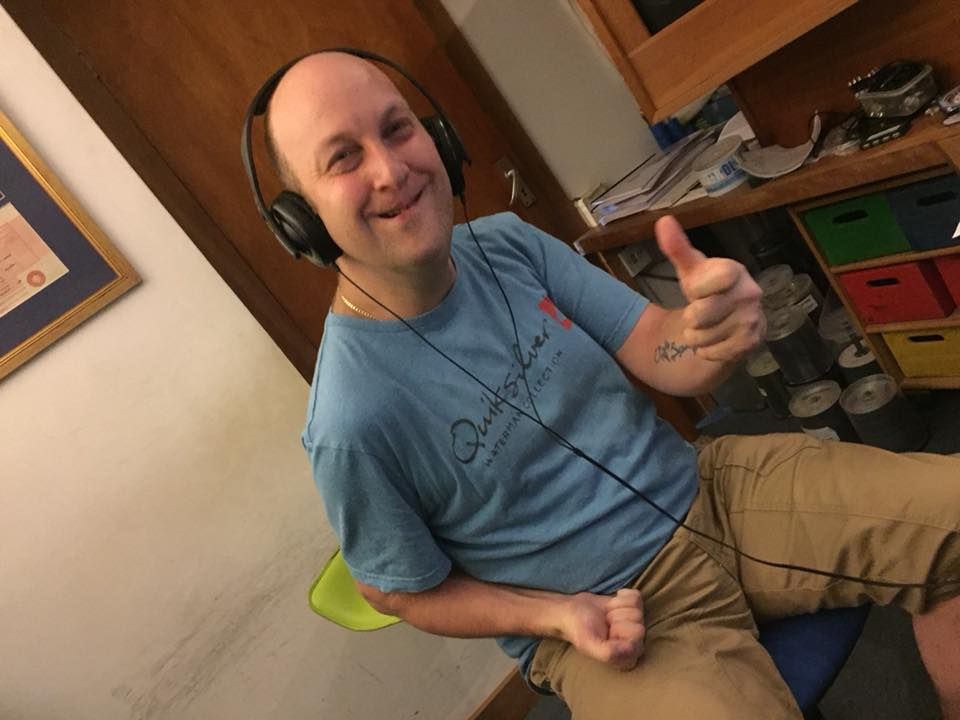 Songwriting is the reason I own a recording studio, and the reason I got into production. I have always considered my guitar/keyboard playing to be a means to record original songs. In the early 80's Julian Tucker and myself had a Publishing Contract with Southern Music, based in Denmark Street in London. With our modest £5000 advance we bought some recording equipment. A then 'state of the art' Tascam Portastudio 244. It was a flawed system that used cassette tape as it's medium, but this was pre-digital, so in it's own way it was groundbreaking, and put multitrack recording within the grasp of a destitute musician! My studio equipment built up from then.
A few years ago I was contacted by a Lyricist called Gavin Clifton. He had already co-written with some people known to me and his stuff sounded pretty good. As original music is always my preferred path, I said yes, I would love to co-write, and why didn't we try out one to see how it goes?
A slight curve ball here, is that Gavin has cerebral palsy, and coupled with a speech impediment would make our communication tricky! Having been involved with Southend Mencap on their Music Man Project, and never one to shy away from a challenge, Gavin and I got together to see what we could achieve. I wanted him to have a real partnership role in these songs, so to negate any communication difficulties, I set up a laptop, so if there was something I was not getting, then he could jot it down.
The way we began was the way we still work today. Gavin had several sets of lyrics and offered us the chance to pick one that we could easily work with. My studio buddy Rob Sherwood was also pitching in ideas, and within an hour we had the whole song mapped out. I then programmed the drums and put a piano down, and Rob finished the rest of the music - bass and guitars, and we then put backing vocals and a lead vocal down. The whole process took about 6 hours. We all thought we had a pretty damn good rock song on our hands, so I suggested the amazing Aubrey Parsons to do the lead vocal session. A little addition of some strings, and there it was - BAM! This song was 'When Courage Shines On Me'.
Hot on it's heels was a great country song called 'Little Steps, Little Wins'.
and a classic Christmas song called 'Magic Of Christmas'. A very talented lady called Kaci James has also just released this song.
Based on an idea by the smashing and lovely Kirsten Orsborn, we wrote the Motown inspired 'Mama Didn't Raise No Fool'. Kirsten brings joy to every performance and she simply shines her way through this one!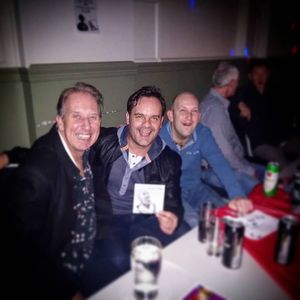 Gavin never stops and he was also writing with other writers - often friends of the studio. The very prolific songwriter Darren Parry wrote a great song with him in a much more modern vein called 'Why Won't You Let Me Love You'. Darren Gavin and myself produced this song, and Darren released it under his own name.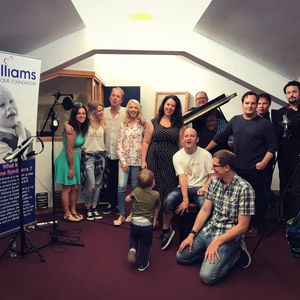 Gavin also composed a song with our long time friends, the uber-talented Daniel and Laura Curtis. called Talk To Me. We enlisted a cast of some of the top singers in Wales, from right across the board, and this song became The Official Williams Syndrome Charity Single.
Somewhere in the middle of all these we wrote one of our favourites 'Silent Love' - like something Dusty Springfield would have recorded - we are still looking for a home for this one, but Gav and I both think it is one of our best. The very dancy 'Waiting on the Edge of Time', the beautiful stripped back 'A Pocket Full of Dreams'. Also awaiting a release date the brilliant Lorna Amy Sullivan has recorded a song we wrote based on 'The Greatest Showman' called 'Crystal Ball'.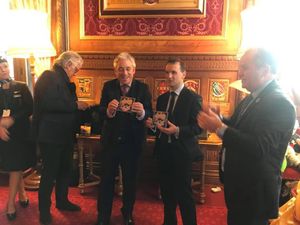 THIS BRINGS US TO NOW!
Perhaps the ONLY POSITIVE WORDS THAT HAVE BEEN ISSUED FROM THE HOUSE OF COMMONS IN THE LAST SIX MONTHS IS OUR NEW SONG!
https://www.facebook.com/jenna.curtis.52/videos/2028659710512974/UzpfSTEwMDAwMDcxNjk0NTU1NjoyMjA2NDIxODU2MDU4MzU4/?epa=SEARCH_BOX
Gavin and I were called upon by the Dreams and Wishes Charity to write a song they could release as a single, and raise awareness of the charity. These guys do amazing work by providing wishes that come true for seriously ill children and their families. Gavin wrote a brilliant set of lyrics, so it made it easier to turn that into an inspiring song. Legendary West End singer Peter Karrie (Phantom of the Opera) provided a brilliant lead vocal with fab backing from singers from the Brouhaha Arts Academy. The 'Dreams and Wishes' charity are invited to the House of Commons at least once every year where they were this year commended by the Speaker of the House for their great work.... and that's how he came to have the song we wrote in his hand, and promised to play it next time he was in his car! Please go and buy a copy of this - it is a well deserving charity, and if the House of Commons can't sort the Brexit mess out, at least they will have done SOMETHING good before Christmas!!