I can't recall a busier or more exciting time in my life!

THE KORGIS
We started touring The Korgis in earnest this year. We began with some surprisingly trouble free rehearsals. The band as a collective is one of the happiest bunches I have ever worked with, so that helps. Here is Cold Tea from our production rehearsal just before the first gig.
         
We wanted to add a bit of theatre to the show, and this seemed like a good place to start!
Our first gig in York went down a storm, and then onto the sellout gig at London's 100 Club. Another sell-out at the lovely Ropetackle Arts Centre on the south coast, and winding up with a homecoming gig in The Bristol Folk House. The feedback has been amazing, and we even had fans following us from gig to gig! We had planned a new finale for the current show, which began with 'Something About The Beatles', then a pure Korgis rendition of 'A Day in the Life', and inevitably ending with 'Everybody's Got To Learn Sometime'. We did a little play on the famous alarm clock used by The Beatles for their recording of 'A Day in the Life'. Hope you enjoy this  psychedelic video.

 
Footage from the gigs at York and London in March 2019.   More Korgis dates in the summer!
MUSIC MAN PROJECT LIVE AT THE ROYAL ALBERT HALL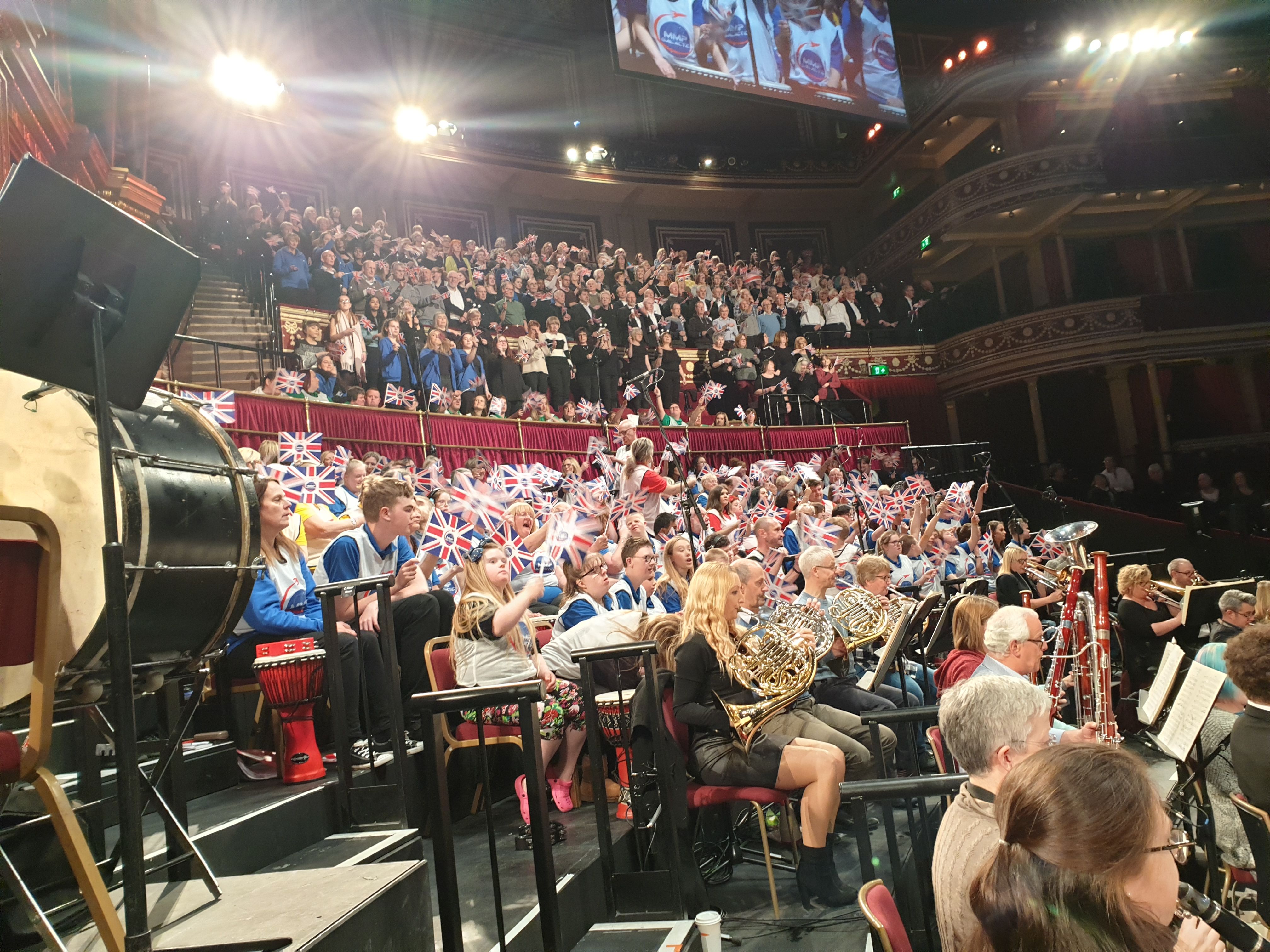 This was definitely the largest undertaking of my career!
Writing 136000 notes for a cast of 600 at the Royal Albert Hall, is something you should think carefully about before accepting. Of course, I said yes immediately!
Onstage were 200 students with learning disabilities, singing the most complex songs, solo and in groups, and adding percussion in all the right places. Behind the 60 piece orchestra were a 300 strong choir.
The Music Man Project is the brainchild of David Stanley. David composes all the music and then we have a brainstorming session as to how it should sound. THEN I write the 136000 notes!

Obviously it took a good deal of time to write. The climax came right in the middle of The Korgis tour, so I can now add juggling to my list of skills!
Needless to say the show was a fantastic success, and we pulled an audience of 3000 people in.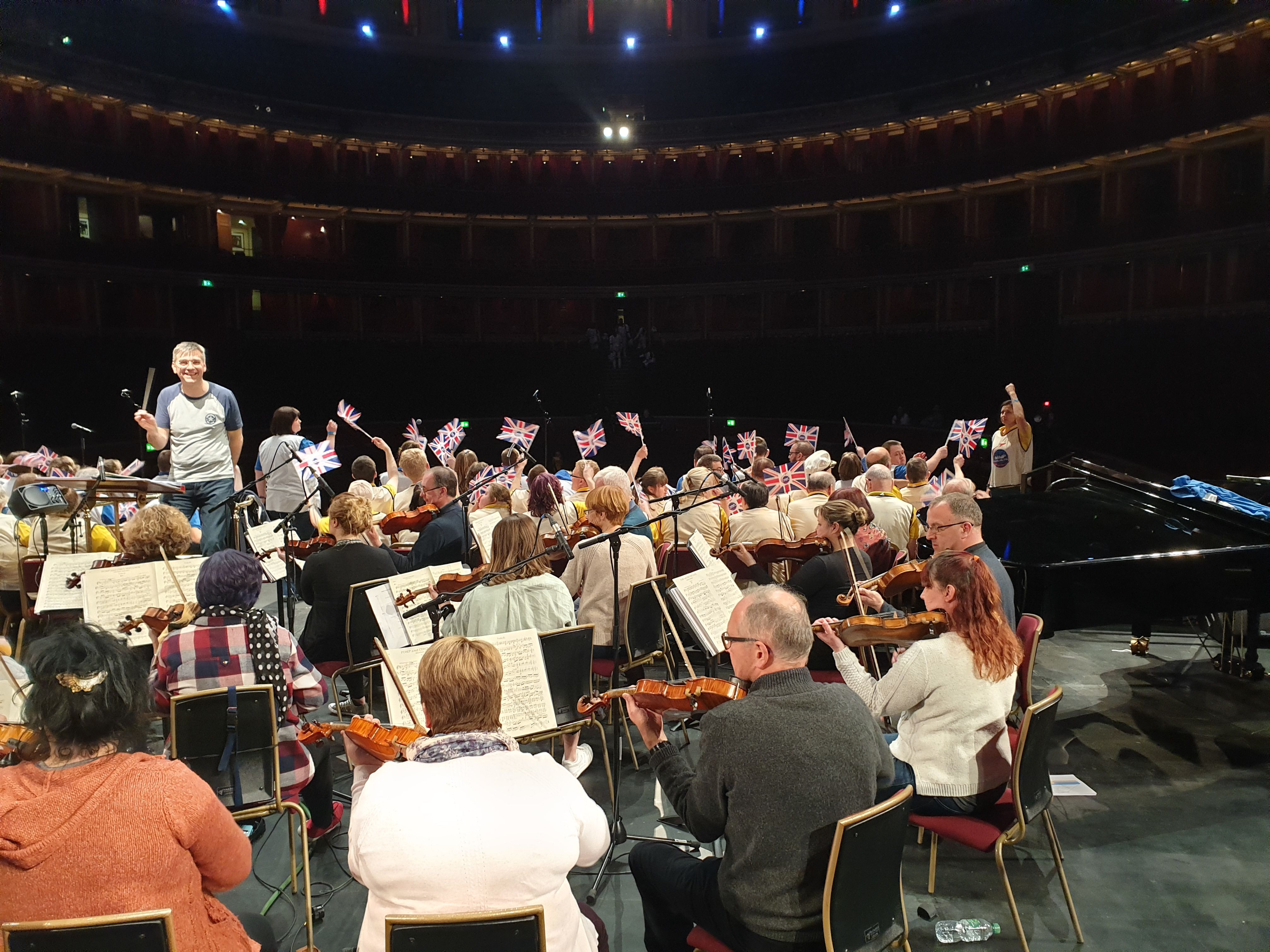 This orchestra was far too big for  me to conduct so or orchestra fixer Jackie O'Kane  brought in the AMAZING Liam Bates. I would describe Liam as one of the nicest blokes you can meet, who won't take no for an answer!.
It was amazing to hear the orchestrations coming to life, as Liam dissected each phrase and section.
The gig was a blast for me, as all I now had to do was 'Shut up and play my guitar'!
If you can get along to one of these concerts in the future please make the effort. Whatever you expect it to be - it will not be what you expect!
THE MIKE SMITH BIG SWING BAND
The day after our last Korgis gig in Bristol, I had a Mike Smith BSB concert. Unlike our winter dance, this is a sit and listen affair, and I couldn't just rehash the same stuff I did last year! SO... after the 136000 notes for the Royal Albert Hall gig, I set to work writing another 40000 for this concert!
I had a brilliant new singer for this concert called Sammi Broad. Sammi was very familiar with a lot of Dusty Springfield material, so we put a few of those in. Our small orchestra sounded amazing. Back again was the stunning soprano Katy Treharne, and long-term favourite Daniel James.
As a special treat I asked James Warren from the Korgis if he would come along, and sing some songs. We chose 'All You Need is Love', A Day in the Life', and of course I had to hear Everybody's Got to Lean Sometime' with a full orchestra! We added a James Warren/Al Steele co-write 'Happy Man', which I re-arranged as a swing number. What a lot of fun! Here is a wee video..
 
DAVID JUAN LOZANO
In October 2018, David Juan Lozano launched his album 'Love at First Sight' in real style with a 20-piece orchestra, and a band that were as  tight at the Fab Four!
He decided to do it all again in Porthcawl, and the response from the sold out room was phenomenal! Juan surrounded his original songs with some real classics from many era's and genre's.
After his knock out two-hour show with the band and orchestra, Juan spent a further hour giving autographs and hugs to his rather enthusiastic fans! The after show party continued at a nearby pub till 3am, where just the core of the band were left. A great bunch of outstanding musicians, and great friends to boot.

Unbeknown to most Juan had lost his mother just a week and a half before the gig, but was determined to see it through in her honour. He knows that's what Myra would have wanted.


ANDY FAIRWEATHER LOW AND ROOSEVELT
I would like to say that I got to play with Andy Fairweather Low, because he had heard about my guitar and keyboard skills, but life has a funny way of throwing up opportunities in a most unusual way, and not to be missed.

Simon Groves our Roosevelt brother on drums has a daughter called Zoe, and Andy has a son called Sion. Well these two young rascals decided to get married, and with such a wealth of musical talent in the family, Andy suggested we play a set together.

What resulted was a lovely relaxed gig with a few bottles of beer and glasses of wine, and a fantastic party crowd who couldn't help singing along with everything! Here is Roosevelt and Andy Fairweather Low, performing his Amen Corner classic, 'If Paradise is Half as Nice'.
What a lovely end to an exciting run of gigs - and it's only just turned May!