COMING UP FROM DOWN UNDER            Al Steele 3/9/97-4/12/97 
In the beginning there was the stone age 
We all sat round in cave's and lit fire's and stuff 
Drew pretty picture's on the wall when we were bored 
Killed wild animal's to show that we were tough 
Then sometime later came Edison and the Lighthouse 
Powered by electricity the saviour of the world 
The hairdryer's and heater's and hamburger's gave us hope 
Worst thing of all they gave us soap, and it's all 
Coming up from down under 
You asked for my blessing and I gave you my curse 
I'm coming up from down under 
Jelly gone bad and just about to get worse 
You must be joking 
Shakespearian verse says 'You guys are choking me' 
Theatrical tragedy falls to the sword of surfing and small talk 
'Has anybody seen bouncer?' 
Sometimes I have this inescapable impulse 
To gather up all the TV's in the world 
And go down to the beach and wait for that big wave 
And send them all off surfing to the grave 
CHORUS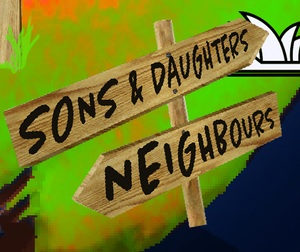 DRIVING                                Al Steele 22/11/91
I work all day, and I sleep all night 
Grey is grey black is black, and white is white 
Got no time to think, about just where I am 
It's hard enough in times like these 
Just to walk like a man 
And I don't know what's behind 
And I don't know what's ahead 
All in know is the road I'm on 
And a voice inside my head says 
Keep Driving, keep driving, keep driving 
You gotta keep on driving 
Don't  look down, try to hold the line 
In the rough and tumble, in the push and shove, 
Time is money and money is time 
Got my souvenirs, from the people that I've met 
And the places that I've been 
And if I don't say much, It's 'cause I'm staring out this windscreen 
CHORUS 
I work all day, and I sleep all night 
Grey is grey black is black, and white is white 
Got no time to think, about just where I am 
It's hard enough these days, just to walk like a man 
Don't  look down, try to hold the line 
In the rough and tumble, in the push and shove, 
Time is money and money is time 
Got my souvenirs, from the people that I've met 
And the places that I've been 
And if I don't say much, It's 'cause I'm staring out this windscreen 
And I don't know who to fear, and I don't know who trust 
And I don't know how or why, I just know that I must 
I've got no time to laugh, I've got no time to cry 
There's a train rolling through me, and it never says die 
And I'm calling out to you, and you're calling out to me 
But the cat's eyes and the white lines, are all that I can see 
CHORUS 
I'm driving now, yes I'm driving now 
Just keep on driving
I had really got into orchestral sounds. I had a dream of creating some new music that would be somewhere between classical and rock and pop (probably only realised over a decade later with 'My Desire', Paul Weston/Al Steele), and so, wherever I felt the music could take it, I would build in some orchestra. The whole rhythm is built around windscreen wipers, and again, lyrically, I didn't want anything to be gratuitous.
NOBODY EVER LOVED ME THAT MUCH                                      Al Steele  16/07/90-6/12/93
He wore a white tuxedo 
And he ran a bar, and his name was Rick 
And he never drank with the customers 
But he always seemed to drink too much 
Well, Sam played, and Rick made sure 
That no woman ever stayed too long 
And he never seemed to say too much 
But he always knew just what to say   
Where do you come from? 
I'm a bum, I'm a drunkard 
Do you despise me? 
Maybe I would if I thought about it but   
Nobody ever loved me that much 
No she never made me feel so good 
I bet she told you she got through to  me 
Nobody ever could 
Nobody took my breath away 
No I never tremble at here touch 
So don't bother asking 
Nobody ever loved me that much 
Once he had a lover 
But she never really meant that much 
Anyway, that's what he tells himself 
That's how he forgets, as time goes by   
Where were you last night? 
It's so long ago I can't remember 
Will I see you tonight? 
I never plan that far ahead 'cause 
CHORUS   
Any heart in the world you could find 
And you had to walk into mine 
So how will it end up this time 
I go to bed dreaming, and I wake up screaming 
Nobody!   
I didn't count the days, I didn't count the nights 
Not once did I wish I was holding you 
I didn't wait up, I didn't pace the floor 
When you begged me to stay, I just walked out the door 
You ask me would I, give up my life 
Give up my freedom just to be with you 
Well I have to say, I have to come clean 
It didn't even cross my mind , and here's the reason why  
CHORUS